Lower port fees
After a review of the company's finances and proposed budget for the coming financial year 2020/21, we are pleased to announce price reductions on the LONAP Internet Exchange in 2020/21.
100GE ports reduced to £1675pcm from £1750pcm
40GE/40G on 100GE reduced to £750pcm from £900pcm
10GE ports reduced to £250pcm from £299pcm
2G on 10GE ports reduced to £115pcm from £140pcm
In addition, for ports of 2G or above, we can offer an additional £25pcm per port reduction for members who pay using direct debit. It only takes a minute to sign up at https://www.lonap.net/directdebit
This pricing takes effect from today and we will issue credit notes against existing invoices where appropriate. Current LONAP pricing is always available at https://www.lonap.net/fees.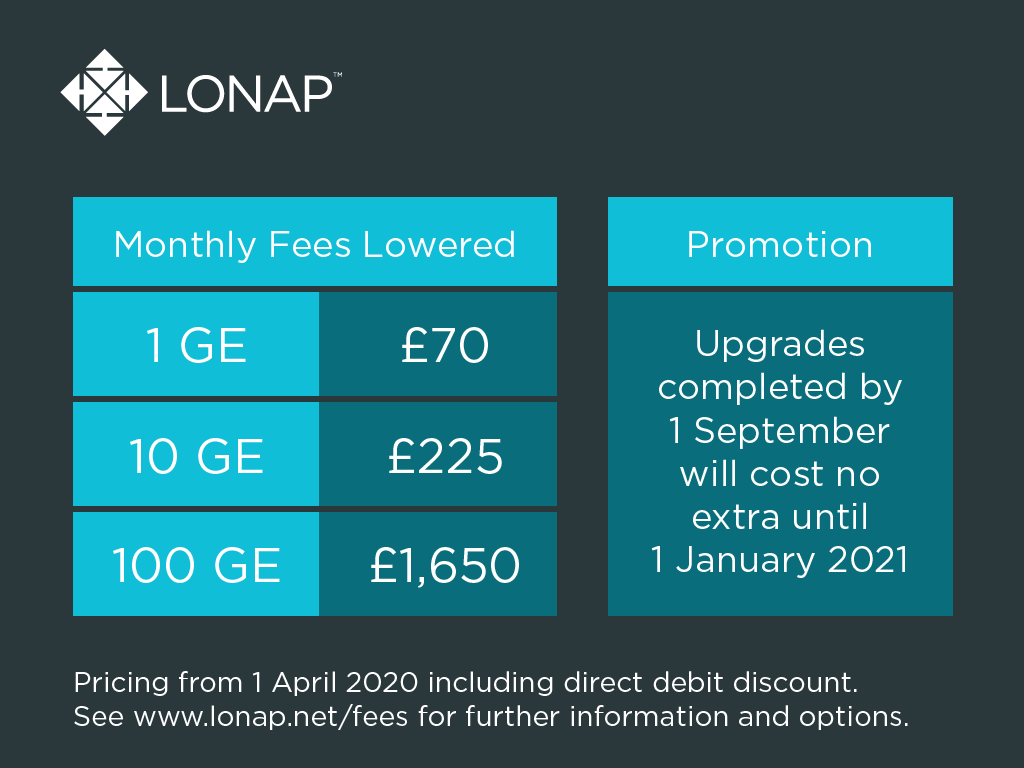 Port upgrade promotion
We are seeing many changes in traffic flows across the exchange and we wish to support members in need of an upgrade. At present, our own operations are unaffected, however we are hoping to batch and complete upgrades and new provisioning with the help of datacentre operations teams.
In support of this aim, any existing LONAP member can receive a new port or capacity upgrade free of charge until the end of 2020 if commissioned before 1st Sept 2020. This means that any member upgrading will continue to pay their current port charges until the 1st January 2021.
How we set fees
We review our pricing at least annually to ensure we continue to provide the best value to our members. Our guiding principles for the budget are: 1) to cover operational and ongoing costs, 2) to plan for expected growth, and 3) to hold a reserve fund in case of unforeseen circumstances. We are a not for profit organisation, so we do not seek to make an excessive surplus, nor to expand the scope of the IX beyond our members' needs.
Each year the Managing Director develops an activity plan and budget for the coming year. This is discussed and agreed with the elected Board of Directors. From this, port fees are modelled and agreed.
Strategic pricing
This year we also took the opportunity to make some changes we felt were for the best for the exchange and the membership:
First, in line with the company's stated objective "to provide efficient interconnectivity for the United Kingdom Internet", we believe that it is in the best interests of the exchange that 10 Gbps is considered the "entry level" going forward. While we plan to continue to sell and support 1 Gbps ports until our members are ready to upgrade, we are not lowering fees on them. Our 1 Gbps ports are provided using 10 Gbps switch ports anyway, so the cost to LONAP is no different. And we believe that 10 Gbps has become so commodity now that the price to our members for 10 Gbps router ports versus 1 Gbps is negligible.
Raising the bar to a baseline of 10 Gbps is for the good of all members, and will enable better user experience in form of fewer congested ports in the event of attacks or unexpected peaks. For the time being, we understand that there are still viable use cases for 1 Gbps ports and we do not seek to drop them entirely. However as we no longer expect to reduce pricing on 1 Gbps going forward, the price gap over time will reduce such that members will naturally want to move to 10 Gbps anyway.
It is also worth noting that the LONAP fee for a 1 Gbps physical port is the same as a 10 Gbps physical port capped to 1 Gbps, so members can upgrade their physical port whenever they are ready even if they do not yet require more bandwidth. Doing so early enables seamless and quick logical changes in the future to upgrade the capped port speed, as and when required.
We believe that it is in the best interests of the exchange that 10 Gbps is considered the "entry level" going forward.
Second, we have taken the opportunity to encourage members to move to direct debit by offering a discount for paying this way. While the majority of our members pay promptly (for which we are grateful), slow payment by some requires unnecessary and costly administrative overhead.
As a mutual member-owned IXP, we feel it is not fair that some members subsidise this work for the others who do not conform to good and timely payment practices. Therefore we now offer a discount to members who sign up for automatic direct debit payment. This discount is offered on all port speeds above 1G.
If you have any questions about the pricing, the upgrade promotion, or would like to discuss your current peering in London, please do contact us.