We are pleased to announce further reductions in our fees this year, effective 1st April. Our current fees are always listed at https://www.lonap.net/fees.
Partial 10 GE products
Last year, we were very excited to be able to bring down the cost of a 1 Gbps on 10 GE port to the same price as a 1 GE port, enabling us to make 10 GE ports the baseline while not financially impacting our members. This brought benefits in the number of members able to join with 10 GE ports, and provides them the option to rapidly upgrade when required by increasing or removing the 1 Gbps rate limit.
This year we have managed to take this even further by reducing the cost of 2 Gbps on 10 GE to the same price. Members who have taken the opportunity to upgrade to a 10 GE port can now request their port to be upgraded to 2 Gbps and pay nothing extra if they are on direct debit. Members still on 1 GE ports can likewise upgrade and enjoy double the bandwidth.
We have also added a 4 Gbps on 10 GE transition product to assist our members who have requirements in this range to upgrade with less of a cost impact. As with all our rate-limited products, this can be unlocked to the full 10 Gbps on short notice as required.
10, 40 and 100 pricing dropped
We also continue to make significant cuts in our 10 GE, 40 GE, 40 Gbps on 100 GE, and 100 GE pricing as we reduce our costs and pass these benefits along to our members.
We have also removed the 100 GE setup fee, to remove any barrier to joining, to enable simpler annual budgeting, and to bring this in line with all the other port speeds.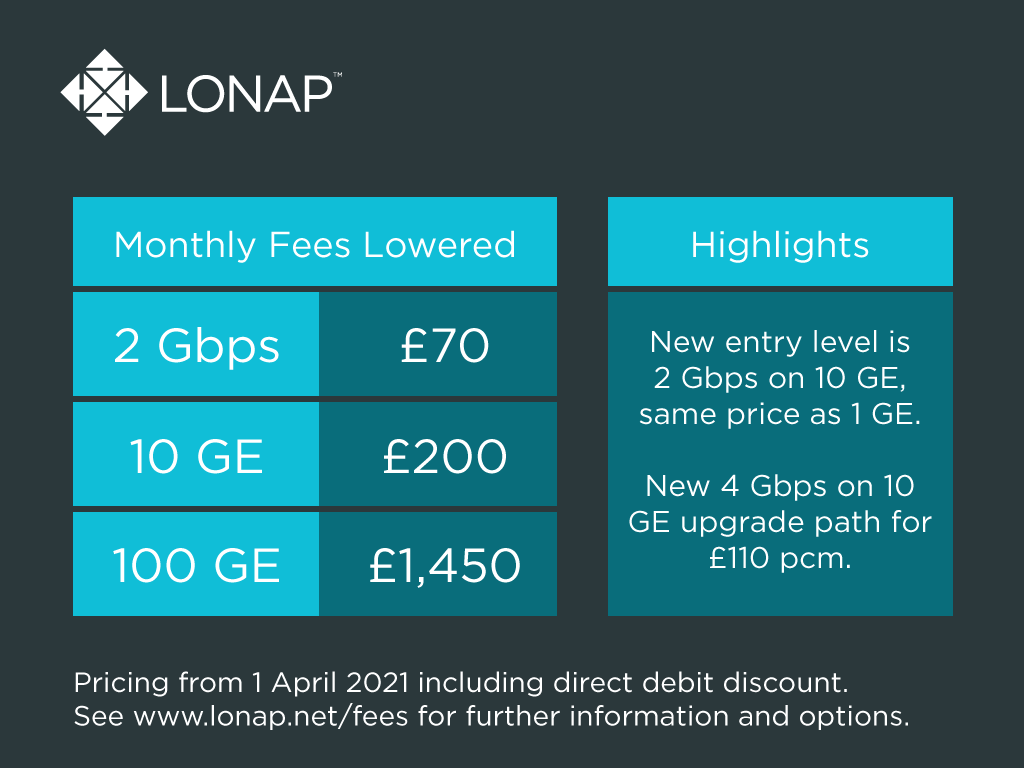 Direct debit still preferred
We're continuing to offer a discount for payment by direct debit on most port types. As a not-for-profit IXP, payment by direct debit helps us manage our cashflow and reduces the cost to our members in collections. Members can easily sign up for direct debit payment at https://www.lonap.net/directdebit
Port fees listed on this page are based on an inclusive direct debit discount. Our complete list of fees is at https://www.lonap.net/fees.
If you have any comments or questions about the new LONAP fees, or you would like to discuss joining or upgrading your peering port in London, we are always happy to talk.